Midnights by Taylor Swift Review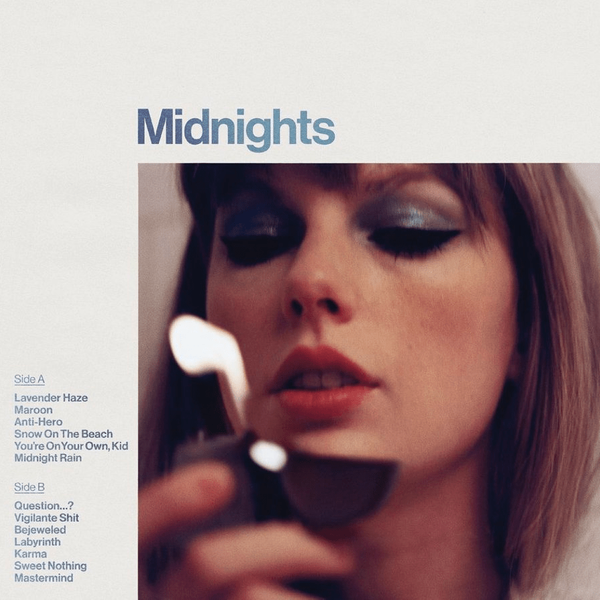 Midnights by Taylor Swift
Inspired by the 'sleepless nights ' of Taylor Swift, Midnights contains confessional yet cryptic lyrics, ruminating themes such as anxiety, insecurity, self- criticism, self-awareness, insomnia, and self- confidence. Musically, Swift experimented with electronica, dream pop, bedroom pop, chill-out music styles in the album. Renouncing the alternative folk sound of her 2020 releases for a return to synthpop, also called techno-pop, synthpop has an electronic feel to it.
My favorite song in Midnights is Mastermind, it shows Swift working on multiple levels- from personal to political, while offering perhaps her most incisive examination of her own public image yet. The lyric "And a touch of a hand lit the fuse, of a chain reaction to countermoves, to asses the equation of you, checkmate, I couldn't lose" Swift uses a hand touch to kick off another one of her favorite metaphors: love is a battlefield, or a chess match. I love when artists utilize the same bottom line but change up lyrics so it's not repetitive, it makes me feel like the song is more personal.
In Mastermind, Swift casts herself as a grandmother toying with her opponent, effectively inheriting the position of power once held by "John", and while many of her previous lyrics about hands have focused on the effects of her lovers hand on her, here its reversed, she's the one welding her touch to light a fuse. There are a lot of mixed metaphors in Mastermind, but I think it was a great idea to reverse the roles of her and her lover because it creates a sense of diversity throughout the album.
My second favorite song in Midnights by Swift is Bejeweled. It is the ninth track in Midnights. Swift writes about how she wishes she was treated better by her partner, she realizes she is a jewel and shall be treated as such. I love how Swift shows you that you need to find confidence even when it's taken away from you for whatever reason. I think that is a very good lesson to learn at all ages.
I love how Bejeweled shines a brighter light on kindness that is being taken for granted and being able to gain your confidence back after a partner or person in your life has taken it away from you.
Overall, if these songs sound interesting to you at all, I would definitely recommend spending some time and listening to Midnights by Taylor Swift.
Leave a Comment