Taking a new STEP into the future
Step is a type of dance that comes from African culture and slaves. It consists of steps and clapping that are synchronized. We have a step here at  Cy-Fair High School. The Cy-Fair step team is coached by two teachers Ms.Readeux and Ms.Stribling. Anyone can join the step team, we had 30 people trying out for our school step team but only 12 made it. I am a part of the step team. Also, both of these teachers did step when they were younger and they wanted to bring step back to Cy-Fair High School since we didn't have a Step team. Cy-Fair did not have a Step team for about 2 years because we had no one to run it. What I want to accomplish in Step is for our  girls to go to competitions and go against other schools. What I like about Step it up is a lot of energy and friendship.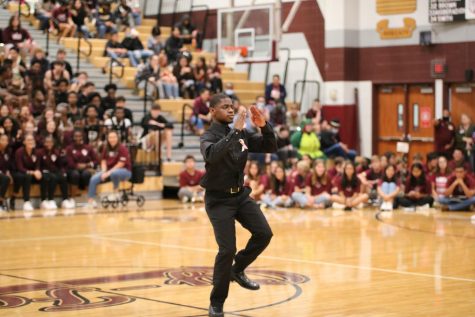 The STEP team of Cy-fair High School had seen an untimely demise in the wake of the COVID Pandemic. The STEP team, for many, was something they looked forward to participating in during the school year. Their performances were always widely applauded at any pep rally, but the emergence of COVID-19, STEP, was just one of the many extracurricular organizations that could not continue. This new 2021-2022 school year has seen the revival of the STEP team, with many students having found renewed hope.
The STEP team is officially known as YLPA/YMPA, which stands for Young Ladies For Positive Action and Young men for positive action. The inner workings of this activity include the Steppers and the members of the three vital committees. These include Public Relations, Community Service, and Performance Committee. These committees aid in the behind-the-scenes work for the team.  Some of the goals for this team are to empower students academically, cultivate in them a passion for sports and the arts, and promote school spirit and excellence. With the initiative taken by Mrs. Lauren Stribling and Mrs. Monet Readeux as Sponsors of YLPA and Student Peyton Thomas, the team coach, and a 2021 Bronze National Champion, the team was able to resume its function. The Coaches Made sure to let as many people as possible know that partaking in STEP is something that could benefit them. Mrs. Stribling expressed, many of the girls on the team see STEP as a safe place and family. The impact of losing step due to the extenuating circumstances affected many students, especially seniors. This year's graduating class of 2022 missed out on many opportunities offered, such as acquiring letterman jackets. However, the coach and the sponsors are putting in extra effort to provide a year that the graduating class will never forget.
YLPA/YMPA does more than just step. People might not know this, but they also engage in various service activities to help our school and the community. As Thomas has expressed, his goal as a coach is to " get an amazing group of girls to commit to good service in the community, and then after that, we can focus on the stepping aspects."  They have many service projects coming up this December and January, such as a blanket drive and a performance for Adam Elementary. The team also partakes in a Little Sis/ Big Sis program to help strengthen team bonds. Overall, the reinstatement of YLPA/YMPA has brought about many positive impacts for not only the students who partake in the activity, but for their audience as a whole. To expose their audience to their culture and the message they are trying to send through their performance. The team hopes to continue to leave its legacy here at Cy-Fair Highschool for years to come.