Pink Out Pep-rally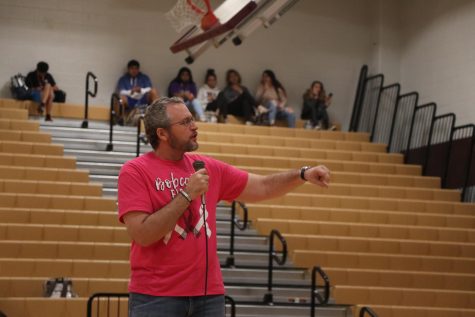 Cy-Fair High School hosted its 3rd annual Pink Out Pep Rally to support Breast Cancer Awareness. This year, Cy Fair honored science teacher, Jonathon Cummings, who was diagnosed with breast cancer in February of 2019.
"[Being diagnosed] was one of the single most frightening experiences of my life," Cummings said. "I had an idea of what I would hear, but nothing reminds you of your mortality like the words 'You have cancer'."
Hearing those words are not easy to process.
"I had to ask my doctor to repeat what he said after those three words because my brain went into damage control and the next five minutes were blank," Cummings said. "My wife wasn't with me that day, so it was a long drive home to break the news to her and the rest of my family."
During the pep rally, Cummings and other teachers who have had breast cancer told their stories. 
"I was honored to be given the opportunity to speak if being honored for having cancer is a thing," Cummings said. "I appreciate the chance to bring awareness to the men's side of this fight, if only because it is often overlooked. It definitely felt good to see so many people interested in helping others in their fight."
Prior to the pep rally, volleyball players sold shirts and bracelets, while other sports teams hosted a bake sale.
"It's cool getting to help out on spreading awareness for breast cancer," volleyball player Laney Lyle said.
Along with the fundraising, each lady's sports team makes a "pink out" wreath, which are given to teachers battling or surviving breast cancer. 
"Receiving a wreath is so sweet," breast cancer survivor and English I teacher Abigail Smith said. "It's a nice signal to others that my room is a place of empathy for anyone who deals with the effects of cancer; whether a person is diagnosed individually, or if a student has a family member who is sick. I like people to know that I am always here for support and to talk."
The teams raised $2,601 this year. The money raised in honor of Mr. Cummings was donated to the Male Breast Cancer Coalition. 
"They are a group whose focus is to bring awareness and give support to men fighting against BC," Cummings said. "I want to make sure others who aren't quite as aware as me know that there is a chance they can get this disease, too."
As of Sept. 11, Cummings is officially in remission.
"I am officially off chemo and radiation and on a daily oral medication," Mr. Cummings said. "Here's to hoping I stay that way forever!"