Pink Out Pep Rally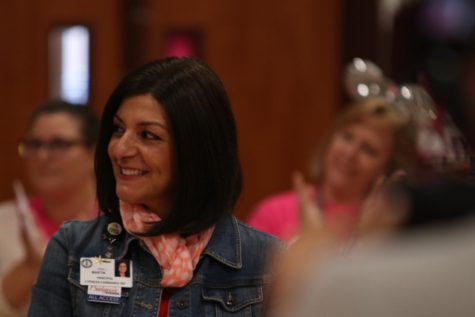 On Wednesday of last week, Cy-Fair had a breast cancer awareness assembly during advisory to honor the survivors of breast cancer on campus.
Principal Ana Martin was welcomed back to school with a breast cancer event. Martin was very overwhelmed with emotion and could be seen crying and hugging everyone around her.
"With my experience, I just felt so much love around me that I just never questioned that I would get better," Coach Jones, a breast cancer survivor herself, said.  Jones and the other coaches wanted to make sure that Martin would feel that same love around her.  Coach Benotti organized the event.
"Because breast cancer has affected our principal and two coaches in our offices, it is something that is very dear to our hearts," Benotti said.  
Benotti also said they were able to collect a big donation that would be going to Martin's breast cancer ward.
The entire event was very heartwarming and all the love and emotions around it could definitely be felt. Several staff members shared their experiences with breast cancer providing hope to one day find a cure.