Coach Benotti's 800th Volleyball Win
By Bryce Nall and Cecilia Uvalle
It may take five minutes to count to 800, but it took Cy-Fair head volleyball coach Donna Benotti more than 20 years to get there. Benotti earned her 800th career win coaching the volleyball team at Cy-Fair High School.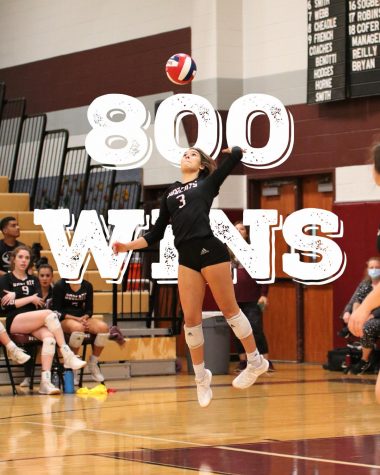 Although Benotti is obviously successful, she didn't get there alone.
"My kids work hard," Benotti said. "I've just been so fortunate and blessed here at Cy-Fair."
Benotti is in her 23rd season as the head coach at Cy-Fair.
"I felt very honored because Coach Benotti is such an amazing coach," senior captain Adura Sogbesan said. "I just was so glad to be a part of that historic moment."
The players admire Benotti just as much as she admires them.
"I've been so blessed to work with incredible people," Benotti said. 
The entire Bobcat community celebrated and took notice of Benotti's milestone.
"It's a pretty amazing career accomplishment," athletic assistant Dianne Moore said.
Benotti thinks she has the right people to help her continue to be successful.
"I have great kids and great parents,"  Benotti said.