Cy-Fair volleyball set itself up for another playoff run
The Cy-Fair Lady Bobcats find themselves district champions again following their three set sweep over Cypress Ridge, making it their second consecutive year atop  17-6A.
The rigorous, revamped strategy this year for the Lady Bobcats seems to be the key to their continued success.
"I feel like we are exploring more versatile outlets and keeping options open for different plays and positions," senior Captain Sophie Scott said. "We get after it during practice and are constantly pushed to be better."
The Lady Bobcats seem to be having fun the season, despite their apparent serious nature.
Senior Captain Lauryn Bourne said that the team collectively is good at deciphering when it is time to focus in practice, and when to be goofy.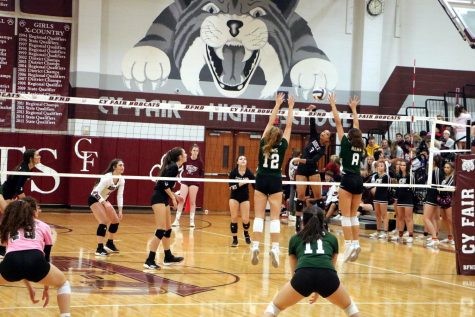 "I absolutely love this team, they're a lot of fun," Coach Donna Benotti said.
A fan of the dual-mentality approach, Benotti mentioned that instead of practice being purely demoralizing work, the team has fun while they work.
"The team definitely has two switches," Scott agreed. "We have our weird, silly, crazy switch, and our serious, down to business switch. We know our boundaries and when it's ok to act goofy and when it's not."
Last year, the Lady Bobcats fell in the second round of playoffs to Cinco Ranch in four sets; however, the team is better suited for a deep playoff run with an increase in varsity returners.
"A little more experienced and seasoned players definitely helped boost our confidence heading into this season," Benotti said. "Those high confidence levels are key to success."
Nobody inclined to report just how confident they were in their ability to find success in the playoffs due to superstition, but players remain hopeful to get past the second round this year.
The Cy-Fair Lady Bobcats have their last regular season game on Tuesday, October 29 against the Cypress Creek Cougars at 5:30.